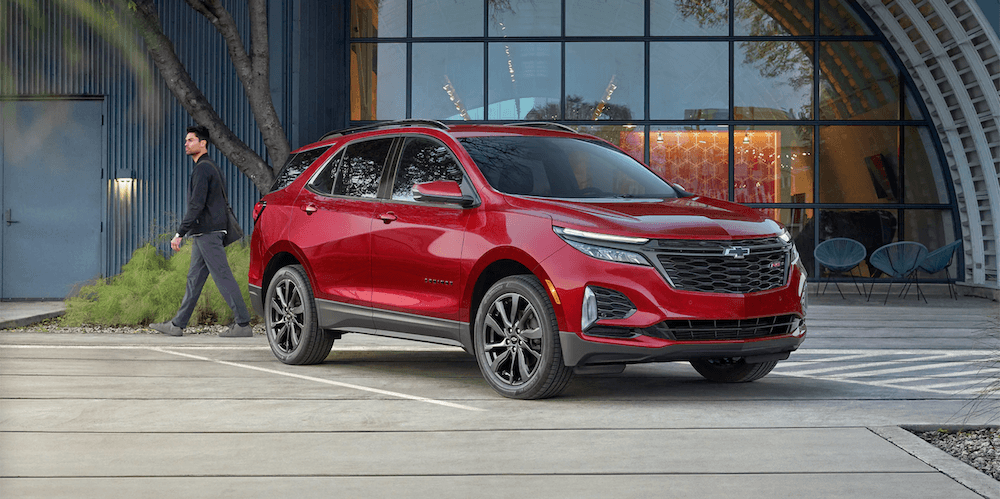 A great SUV is a staple for many families. It can be used for many different reasons: hauling things, going on road trips, off-roading if you live close to the mountains, or looking to get away. Regardless of what you plan to use your SUV for, it would be best if you got a model perfect for you. The 2022 Chevy Equinox gives you the perfect technology and comfort for your everyday life in New Bransfels.
The 2022 Chevy Equinox has held its own in the small SUV class, but it lags behind models like the Ford Escape and Subaru Forester when it comes to handling and price. However, the redesigned Equinox for 2022 is poised to be the fuel-efficiency champ among family-friendly SUVs. This fuel-efficient crossover is a great vehicle, and the beautiful interior makes it perfect for family vacations.
This SUV has been redesigned with a sleek exterior look that includes LED Daytime Running Lights and LED taillights for a modern appearance, heated power mirrors, roof rails, and integrated turn signal indicators for more convenience on the road. It is also available with heated seats to stay warm no matter what time of year it is. The 2022 Chevy Equinox is a compact SUV that seats five passengers. It comes in four trims: L, LS, LT, and Premier. Front-wheel drive (FWD) comes standard in Equinox, while all-wheel drive (AWD) is available.
The 2022 Chevy Equinox is Turning Heads in New Braunfels
Our dealership makes it our goal to provide you with the best customer service and a great vehicle at an affordable price. We believe that customer service is the most important aspect of selling cars, and we want to make sure each of our customer is completely satisfied with their purchase. We offer you the best selection of new and used Chevrolet cars, trucks, and SUVs in New Braunfels, Texas. Our customers from San Antonio and beyond know that we provide a great selection of vehicles at some of the lowest prices. We also know that our customers want a great car-buying experience, so we have made it our mission to make your shopping experience as enjoyable as possible. If you are looking for 2022 Chevy Equinox, our finance team will help you find a financing solution within your budget.
Specials and Quotes
There is no other place where you can get a great deal on a 2022 Chevy Equinox than at our dealership in New Braunfels.  We offer amazing deals for all our customers, so call us today if you would like more information about one of these special offers. You can find all the specials available below, from our no-haggle pricing to our lowest price guarantee.
Finance and Auto Loans
If you are interested in the 2022 Chevy Equinox, our dealership can help you get the auto financing you need. We work with both prime and subprime borrowers, so whether your credit is good or bad, we will do our best to help you get approved for an auto loan. Our friendly sales staff is here to offer you a no-pressure shopping experience so you can feel comfortable browsing for your next vehicle at our dealership. We offer a wide range of resources for exploring 2022 Chevy Equinox finance and auto loans, including an online pre-approval application and information about how to boost your credit score.
The 2022 Chevy Equinox is the next best thing to hitting the road for a great adventure or an exciting trip. You can get the space you need for everyone and the features you want for your travels. This model is a popular choice among those in New Braunfels, so it is worth looking at if you want something that can make your drives easier and more fun. If you have made your plan for a new SUV that has everything you need and more, come to check out our inventory of the 2022 Chevy Equinox in New Braunfels today!