New Braunfels 2023 Chevrolet Blazer EV
New Braunfels 2023 Chevy Blazer EV Overview
Set to launch in the summer of 2023, the much-awaited Chevrolet Blazer EV will turn heads wherever you go in New Braunfels. The two-row, mid-size crossover is a gas-free version and goes by the name 2023 Chevy Blazer EV. Competing with electric vehicles like the Tesla Model Y Performance and the Ford Mustang Mach-E GT, the 2023 Chevy Blazer EV SS model offers 577 horsepower hitting 60 mpg in only four seconds. Keep reading to learn more about the 2023 Chevy Blazer EV.

2023 Chevy Blazer EV Release Dates
Featuring a distinct body, interior, and an all-electric engine, the 2023 Chevy Blazer EV will be a new addition to the Blazer family. It will be available in four trims; 1LT, 2LT, RS, and SS. While the mid-range RS and 2LT models are expected to hit the market in the summer of 2023, the top-spec SS trim and the lowest-priced 1LT trim will officially be launched at the end of 2023 and in early 2024, respectively.
2023 Chevy Blazer EV
Quick Stats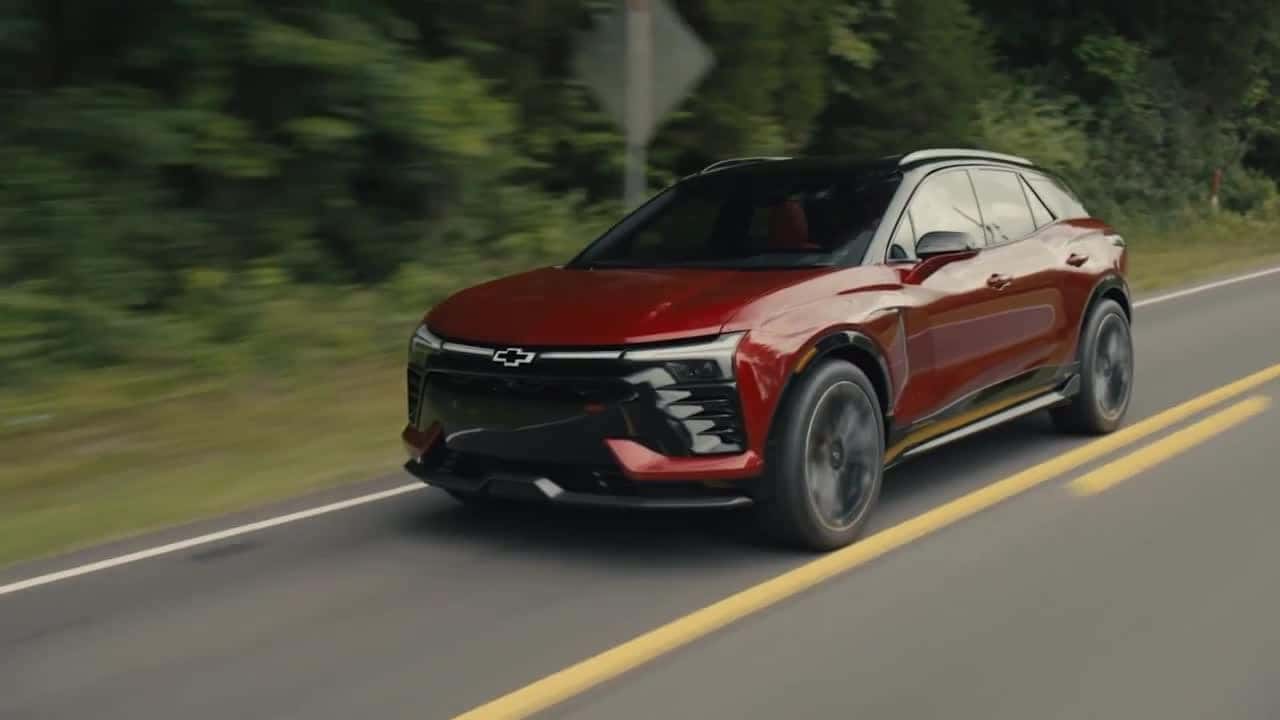 Below are a few quick highlights of the all new Chevrolet Blazer EV. Call Us at (830) 214-1742 with any questions.
Starting MSRP:
$ 44,995
Range:
Up to 320 miles
Trims Available:
1LT, 2LT, RS, & SS
Seating:
Up to 5
Safety Rating:
TBD
How Much Does the New 2023 Chevy Blazer EV Cost?
The 2023 Chevy Blazer EV base model 1LT starts at an MSRP of $44,995, which includes the destination fee. The mid-tier 2LT and RS trims will hit the market in the summer of 2023, priced at $47,595 and $51,995. Last but not least, the premium SS model will cost $65,995. Note that the prices might vary depending on the available features that you opt for.
EV Motor | Performance and Power
Although the manufacturers haven't released the horsepower figures for the RS, 2LT, and 1LT models, it is official that the 2023 Chevy Blazer EV SS trim will exclusively be paired with all-wheel drive and an electric powertrain that can produce 557 horsepower and 648 pound-feet of torque. Chevrolet estimates that the SS model can accelerate from zero to 60 mph in four seconds. While the 1LT model is only available with front-wheel drive, you can pair the 2LT and RS models with either all-wheel or front-wheel drive.
Battery Life | Range and Charging
Even though Chevrolet hasn't released much information about the battery specifications, here is what we expect:
The entry-level 2023 Chevy Blazer EV 1LT trim will deliver 247 miles on a single charge.
The 2LT trim will offer a driving range of up to 293 miles per charge.
The SS trim can be driven for 290 miles in one go.
The RS model is expected to be the most battery-efficient and can be driven for 320 miles on a single charge cycle.
The 2023 Chevy Blazer EV will be compatible with a DC fast charger and can be charged up to 190 kW, adding 78 miles of driving range in ten minutes.
320 Miles
RS Model's Range
Interior | Comfort & Cargo
The 2023 Chevy Blazer EV's aggressive exterior design is perfectly complemented by its sporty interior look. While the two-tone red-and-black color scheme makes the cabin more appealing and attractive for outdoor enthusiasts, a monotone upholstery is also available for others. The two-row SUV has sufficient leg and headroom for all passengers, making them feel at home.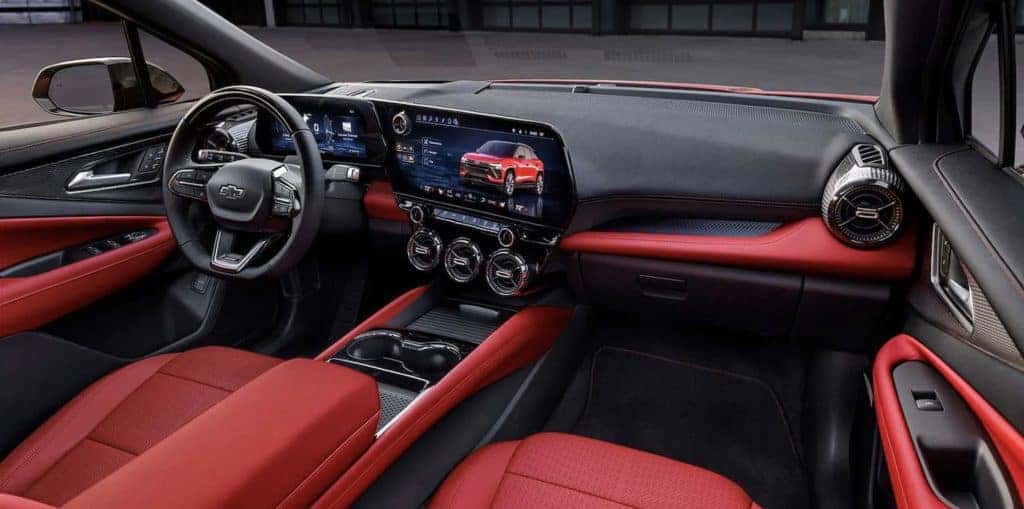 On-Board Tech | Infotainment & Connectivity
All trims of the 2023 Chevy Blazer EV come standard with an 11-inch digital gauge cluster and a 17.7-inch infotainment touchscreen system. In addition to this, the list of 2023 Chevy Blazer EV's entertainment features includes Android Auto, Apple CarPlay, navigation with charging station location, on-board Wi-Fi hotspot, two USB ports, and Ultify technology that will allow you to connect with over-the-air software updates.
Safety | Driver-Assistance Features
The 2023 Chevy Blazer EV is available with many advanced driver assistance and safety features, including automatic emergency braking, front pedestrian braking, lane departure warning, lane keeps assist, following distance indicator, forward collision alert, auto high beams, adaptive cruise control, advanced parking assist, reverse automatic braking, and head-up display. Furthermore, the GM'S Super Cruise hands-free driving system is also available with the 2023 Chevy Blazer EV.
Warranty | Maintenance Coverage
The 2023 Chevy Blazer EV comes with a Limited Warranty of 36,000 miles or 3 years, a Powertrain Warranty of 60,000 miles or 5 years, an Electric components warranty of 100,000 miles or 8 years, and one complimentary maintenance visit.
Contact Us to Learn More About Getting a 2023 Chevy Blazer EV
With a large standard infotainment system, upscale exterior styling, and a snazzy interior, the 2023 Chevy Blazer EV has got everything you need. So, what are you waiting for? Pre-book the 2023 Chevy Blazer EV right away!